Hey everyone!
Hope you all had a fantastic Fourth and a great weekend! I was unexpectedly stuck in no-internet-land but when I did get some 3G on my phone all of the pool/beach/lake Instagrams I saw made me wish I had access to the lake! I did manage to dress patriotically (okay, just navy stripes and denim shorts, but that's American, right?!) and in the afternoon changed into a bikini to get some sun, but it was so hot I was just dreaming of a pool.
My weekend consisted of me working, watching Game of Thrones with the boyfriend (we're a little behind... oops), and me dealing with an epic round of mosquito/bug bites. Ick. I haven't had this many bug bites in several years and such problems with said bug bites for even longer. Basically I had bug bites in the double digits that were swelling up with the slightest touch... from me finding them on my body, to clothing, to my sheets on my bed. Angry, mean, red welts. The pinnacle of this experience was the one on the underside of my right arm - I got bit and the bite gradually swelled and got red BUT on Friday the swelling got so bad the "bite" covered my arm from my elbow to my underarm! I was freaking out but thankfully after a lot of Benadryl, anti-itch cream, and time the swelling went down and now I'm just trying now to scratch anything and set it off again. Yuck.
On a happier note, Game of Thrones' third season is pretty great. I read the third book in the series but the show is deviating from my memory of the book ever so slightly and it's keeping me on my toes. I am loving Margaery (played by Natalie Dormer) as a character and also the actress who plays her. I remember seeing Natalie Dormer on the Tudors back in the day and she's just as beautiful and maybe even better now onscreen.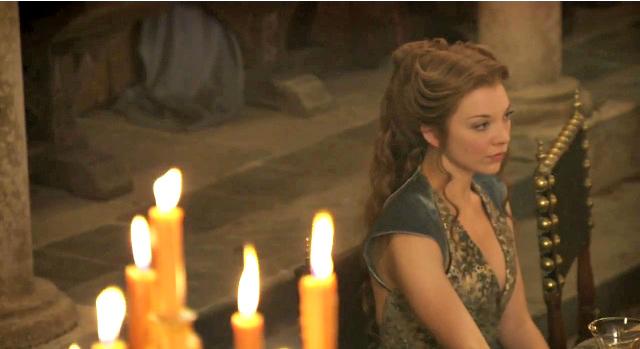 She has some fabulous hair and some great costumes on the show! #girlcrush alert
Alright, well I think that pretty much wraps up my weekend! I'm prepping for a job interview that I have tomorrow, so happy thoughts would be greatly appreciated. Happy Monday!
xx, Amy